In the early 19th century right up until the 1960s and even 70s, a baby that was stillborn or died shortly after birth was usually buried in a communal grave with other babies or in a grave with a female adult.
Hospitals used to take care of the burial at that time which meant that most parents didn't know where their baby was buried. Fathers were certainly not present in the delivery room, and mothers didn't even have a choice to see or hold their baby.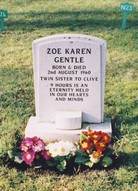 We would be happy to help you find out what happened to your baby; with the ultimate aim of finding out where the baby's resting place is. To enable us to trace what happened to your baby, you would need to provide us with as much information about you and your baby as possible.
We take requests from the parents of the deceased baby or from a sibling on behalf of a parent/s who are still alive and specifically said that they would like to find their baby. We would however only give the news of the baby's resting place directly to the parent/s.of the baby
We will take requests from a twin sibling, however only if have a stillbirth or death certificate for the deceased twin.
Please Note: Due to demand, We do not conduct baby searches for babies who were stillborn or died outside the UK.
Please Note: We do not conduct baby searches for Genealogy/family history projects.
There is no fee for the search, however any donations towards our work would be gratefully received. The family would however be asked to pay any cost for certificates and cemetery searches etc. Please read the guidance information on our website before contacting us.
We will need to know:
Sex of the baby
Name, if baby was named
Date of stillbirth
Date of birth and death
Mother's maiden name
Mother's & Father's name
The hospital / place where the baby was born
Home address of the family at the time
Baby's gestational age
Other information - Multiple pregnancy, Denomination
How it Works:
Requests can be made via this website.
Once you have contacted us, you will be put on a waiting list and contacted when we get to the point when we are ready to conduct a search for you. The waiting list can vary from two - six months.
We will update you throughout the search.
We work closely with our families.
Breaking news - By phone only.
Email confirmation when a baby's resting place is traced.
After Support:
Ongoing support for as long as is needed.
Practical ideas of ways to remember the baby
Online remembrance book
Annual Newsletter